We continue our "Curious Ambassador Series" with our second curious ambassador, Maria Paula Fernandez. This Mediterranean soul is currently living the big city life in Berlin with her dachshund Tupac, while traveling the world working for an elite sport. Sounds more like the big city dream to us!
Who/What/Where/Why?
I am originally from Buenos Aires but now permanently live in Berlin. All through my career in Buenos Aires most of my jobs were missing some creativity. I always had a need to develop my creativity so I have been making and designing jewellery for the past 10 years. At 20 I was hired to prepare an accessory collection for one of Argentina's biggest brands but that didn't last long because I didn't like the thought of my pieces being mass-produced. My last project, my jewellery brand called Shame on Jane, was really fun and successful. It is now at a rest because I decided to move to Berlin but I am sure we'll be back. It's just a matter of time before my creative instinct will want to go on another adventure. I currently work for a polo magazine where I use my creativity on a daily basis and where I am lucky enough to travel a lot.
How did you end up moving from Buenos Aires to Berlin?
I guess I always knew that I was going to live abroad. My grandparents were immigrants from Italy and when I was a kid we spent a lot of time sharing stories, which I enjoyed a lot, so it all came naturally. As soon as I decided it was time I started visiting places around the world to see if I liked them enough to actually move there. My last trip was to Berlin, which made perfect sense because it's cosmopolitan, vibrant, quite messy, little unorganized and full of culture, just like Buenos Aires really. So I came back, packed my bags, found a job and landed back in the city.
Tell us a little more about your work...
I work for a polo magazine and pretty much do everything that I am able to do. Every tournament comes with a different challenge. At first it was just a sales and marketing job but then I became quite good at doing the tournament coverage so I take up that job a lot of times during the season. I will go to the tournaments for sales opportunities, take photos, write reports, send press releases, interview people, jump around on the grass... all of course, while wearing heels, a hat and trying to look like a real lady. This brings me to fantastic places; Sotogrande, Zürich, Monaco, Paris and Baku (Azerbaijan) were some of my most recent polo destinations. The best and biggest polo tournament of the world takes place in Buenos Aires off course, so every November/December I get to come back to my beloved city.
How would you describe your personal style?
It took me quite some time to develop a personal style that I felt absolutely comfortable with. The last two years it suffered a dramatic change because of my job. When you work in an elite sport environment, like polo, you have to look the part while not trying too hard. My style is ,above all, relaxed. I cannot feel uncomfortable when I need to look good and well put together on the field. I love a chunky chain necklace, a good scarf, some men's shirt or an oversized sweater and my signature footwear are boots. But most of all I am crazy about jackets! They are the most essential item to me and I never leave the house without them. I have a big collection of designer, signature and vintage jackets. I just can't get enough really...
What are some of your preferred brands?
Anne Demeulemeester, Acne, Vintage Escada, Helmut Lang and if I have to go low budget, definitely Cheap Monday.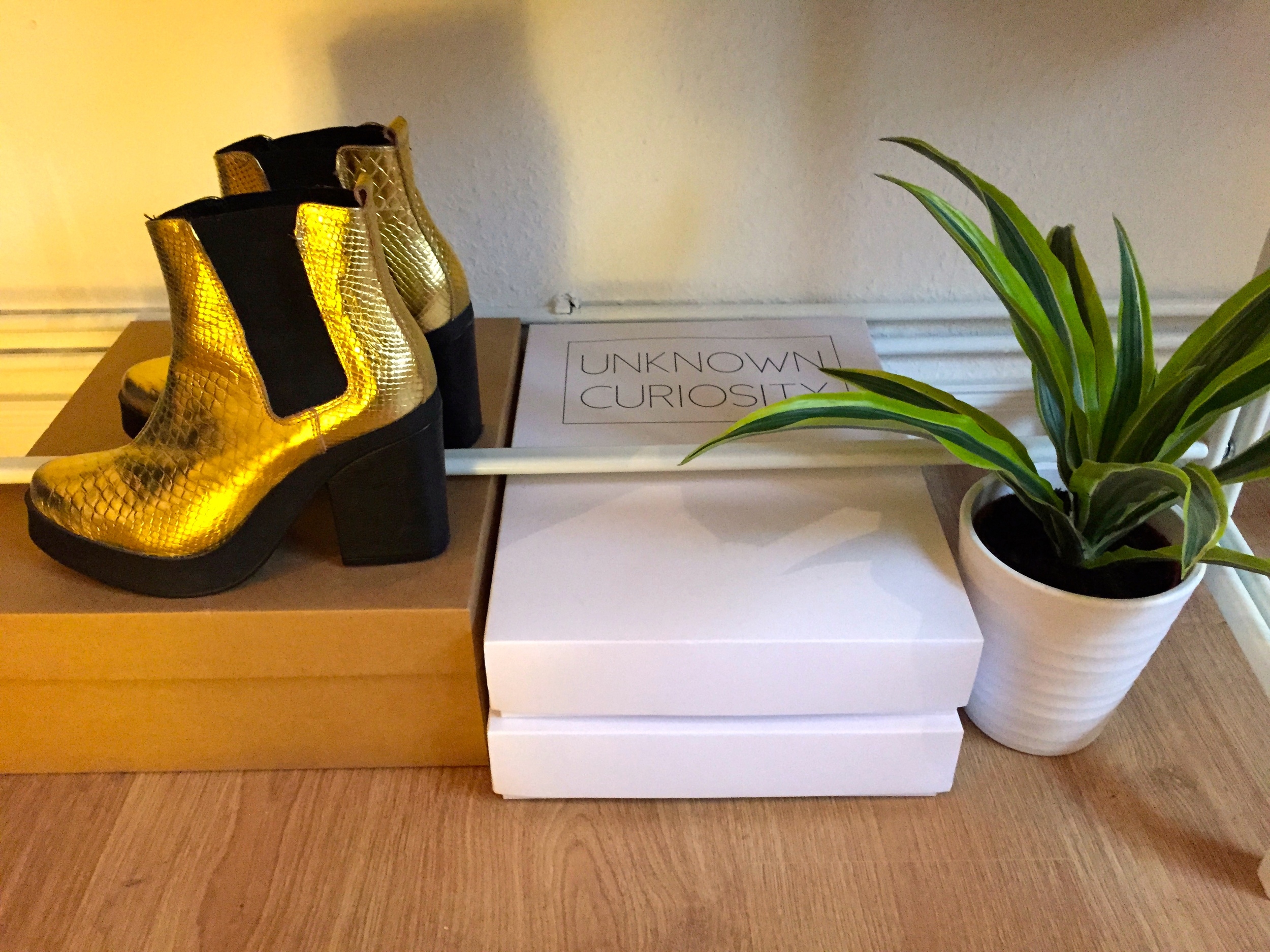 How have you styled your Unknown Curiosity pieces?
Being a jacket collector made it pretty easy to incorporate the Unknown Curiosity pieces in my wardrobe. I loved my classic double breasted Lou blazer from the start because it has an amazing cut, I have worn it to formal and informal occasions.
The black triangle Ivy jacket was surprising because I was a little unsure on how to style it. As soon as I got it, I fell in love and eventually made it work with even more outfits than the classic black one. The rainbow metallic triangles give it a subtle wow factor and I simply adore the way everyone stares when I walk by wearing it.
(From the top of the post down)
First look : Unknown Curiosity Ivy jacket, Topshop t-shirt, Zara scarf, Helmut Lang skinnies, Topshop bag and Cheap Monday booties.
Second look: Unknown Curiosity Lou blazer, Cheap Monday onsie, Miista gold booties and an Acne Scarf.
Third look: Topshop hat, Unknown Curiosity Lou blazer, A.Y. not Dead hoodie, Acne Basic Tee, Cheap Monday leopard skinnies and Asos booties.
What do you like most about living abroad?
I love the sense of freedom it gives you. You're not attached to anything or anyone but at the same time you start appreciating your roots more. You always meet great people but your heart is somehere else. At the risk of sounding a bit melancholic, that feeling makes me feel alive.
Are you planning on moving back one day?
Not really, I plan on leaving Berlin some day but want to stay in Europe.
What are your favourite cities or places around the world?
Well, I live in the city I fell in love with but my soul (and blood, as I am both Argentinean and Italian) is Mediterranean. Just leave me in a city on the sea shore and I will be just fine. So can I just be quick and choose the whole Mediterranean shoreline?
What gets you curious in life?
I used to drive my relatives crazy with random questions about everything and I never seem to have found a cure. So honestly, everything can make me itch of curiosity. All my favourite books are about someone that gets curious and changes the whole course.
My favourite quote from Fahrenheit 451 explains it perfectly;
" I want to see everything now. And while none of it will be me when it goes, after a while it'll all gather together inside and it'll be me. Look at the world out there, my God, my God, look at it out there, outside me, out there beyond my face and the only way to really touch it is to put it where it's finally me, where it's in the blood, where it pumps around a thousand times then thousand a day. I get hold of it so it'll never run off. I'll hold on to the world tight some day. I've got one finger on it now; that's a beginning" (Fahrenheit 451)
How do you interpret "Unknown Curiosity"?
Unknown Curiosity to me, is that fantastic feeling you get when you find something you had no idea it could make your heart jump of excitement, and embark you on a new adventure. You usually get it while doing something completely different and it has changed my life quite a few times.